P.S:- This post contains affiliate links. This means that I may receive a small commission if you were to purchase a product, at no additional cost to you. I always recommend products that I personally use & that which brings value to my audience. It also helps to run this website & bring you more additional value in the future.
Looking for a Twitter Automation & Scheduling Tool? You came to the right place.
In this blog, I will share you my Detailed Review on Zlappo ( A Twitter Automation + Scheduler Tool )
After reading this post, you will be able to make your decision of subscribing to the automation tool, if you are confused.
Now let me start by answering some of your questions.
Or Cut down the Chase:- Show me the Best Zlappo Features Right Away.
Why Zlappo when you could Schedule your Tweets on Twitter Web App?
Well, I know there's a native scheduler available on Twitter that lets you schedule your Tweets. But there's a catch.
You can't schedule Twitter Threads on the Native Scheduler.
Which is where Zlappo is handy.
It not only Schedules the Twitter Thread with ease but also retweets it according to your counts. ( I will talk about this awesome feature in a minute).
Why Should you Schedule/Automate my Tweets?
You can't stay active on Twitter all the time, can you?
Scheduling + Automating your Tweets will save you tons of time which otherwise you would have spent on. You can do other important things, while Zlappo does your work.
Btw, can you retweet your thread 100 times on the twitter web or app? No you can't!
When you try to retweet more than 1 time, Twitter will show you this.
So you can't retweet again & again. That is where Zlappo can save you. You can retweet your favorite thread 100s of times to get more exposure.
Try Zlappo For Free for 14 Days
Best Zlappo Features That You Shouldn't Miss
Schedule Threads on the Go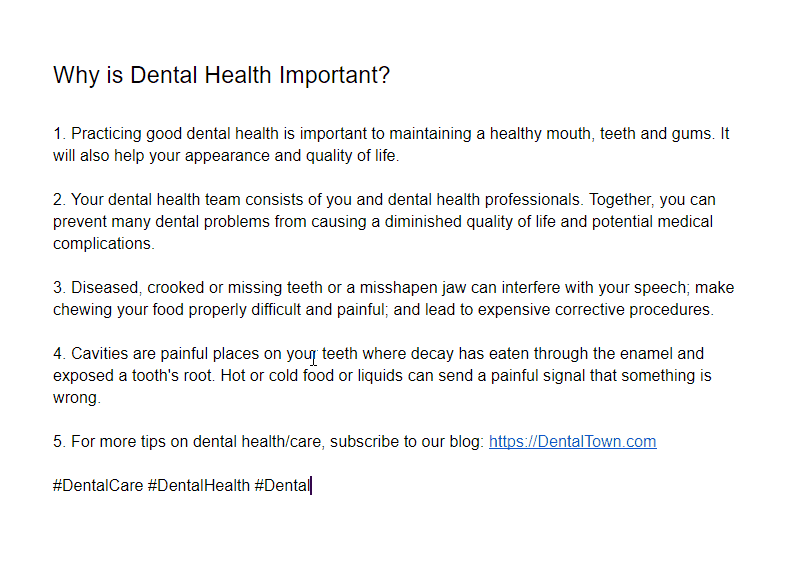 Credits:- Zlappo
You can directly copy-paste your content inside Zlappo & it will automatically adjust to 280 characters.
Then later you can customize when the thread should be scheduled. You can even upload a picture while scheduling, meaning you get the entire functionality of Native Twitter under one roof.
Isn't that cool?
Moving onto one of my favorite features.
Auto Retweet Your Best Tweets To Get More Exposure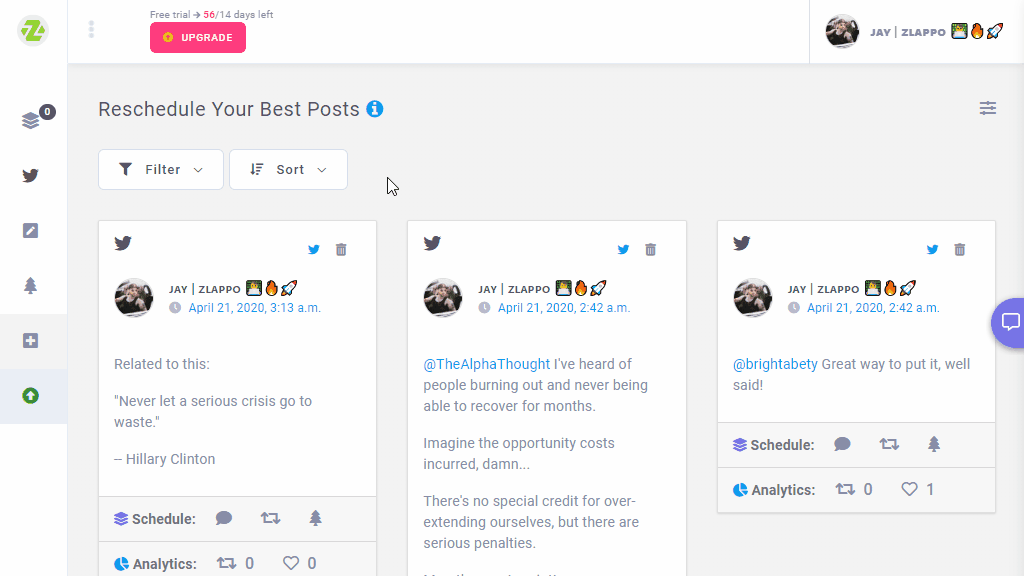 Credits:- Zlappo
So here's how it works.
Suppose you have a tweet with more than 20 Retweets & 50 Likes. And you want this tweet to be retweeted with the audience later to get more exposure, you can do that using this Evergreen feature.
Just Enable it via Settings. Go to Profile. Sort by Retweets or Likes.
Click on the small tree icon & it will be added into the Evergreen list. Now it will randomly retweet your favorite thread/tweet so that you get more exposure.
Auto-Repeat to Get 10x more Exposure
Suppose you have a thread that has got a lot of engagement. You want it to repeat it at specific times. You can do it here.
Here's my thread:- I have scheduled this 90 times Every 3 Days at a Specific Time.
If you have any eBook that you want to promote, this is a good way to get more exposure. You don't need to do anything. Just customize your offer.
Here's a GIF of how you can do it.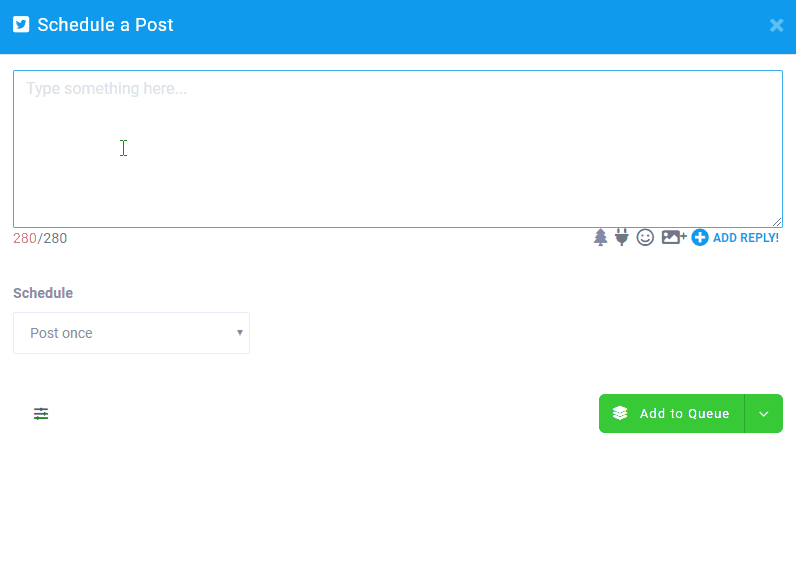 Bulk Upload Posts & Schedule Months of Content ( Seriously)
If you have a CSV File full of content that you want to schedule it, you can do so via the Bulk Upload feature.
Download the CSV Template & Put all your tweets.
Upload once it is done. Once you have uploaded, it will be added to your queue automatically. You can ofcourse change the time of scheduling inside your dashboard.
Upcoming Features that you Don't want to Miss.
Post your Tweet's Screenshot Directly to Instagram & Other Channels.
Imagine being able to share your Tweet's Screenshot to your Instagram app in a matter of seconds. This is an upcoming feature. I asked their tech team & they told it's in testing phase & soon to be rolled out.
This feature will make your Content Marketing atleast 2x better without taking much effort.
Auto-Populate your Blogs & Queue for Scheduling.
Now you can connect your Blog & Schedule your posts on Twitter with this feature. I think this might be using your Blog's RSS feed.
Another useful feature that will save you time.
Native Android App & iOS App
Although you can use the "Add Zlappo to Home Screen" Feature now which turns the web application into an app. But a Native Android & iOS App will create a seamless experience.
What is the Price of Zlappo?
Now that you have seen what a Beast Zlappo is, let's look at the pricing structure for Zlappo.
Initially, to test, Zlappo gives you 14-Day Free Trial. You can sign up here:- Start 14 Day Free Trial of Zlappo
The monthly plan starts at just $9.99/month. But don't think of this as charge. Think of it as an investment in your business.
The more you invest in your business, the more it will grow. Here is the pricing structure.
Free Trial:-
100 tweets total
Connect 1 Twitter account
Schedule a month ahead
Real G:- Just $9.99/Month
1000 Tweets per month
Connect 1 Twitter Account
1 Repeating Tweet
Schedule Tweets A Month Ahead
& Lot more ( Check Here)
Hustler: $29.99 Per Month
10,000 Tweets per month
Connect 10 Twitter Accounts
10 repeating tweets
Schedule 1 year ahead
Bulk scheduling via spreadsheet upload
Evergreen List
Auto-retweet based on engagement
Tycoon: $99.99 Per Month
Unlimited Tweets per month
Connect Unlimited Twitter Accounts
Unlimited repeating tweets
Unlimited scheduling
Bulk scheduling via spreadsheet upload
Evergreen List
Auto-retweet based on engagement
Start Your 14-Day Free Trial Here ( No Credit Card Required)
Zlappo :- Pros & Cons
Pros
Automatic Retweets based on Engagement
Schedule Threads on the Go
14-Day Free Trial
Tweet Screenshot Shared with Instagram Instantly ( Coming Soon)
Best Price in the Market ( $9.99/month, Others are costly)
Cons
No Major Analytics of Followers ( Although they are working on this)
My Personal Experience with Zlappo
So I am a long time customer of Zlappo. I found Zlappo to be really useful & therefore highly recommend it.
Their Customer Support is Fast. They love improving & works on feedback. You ask them for any improvement inside the app & they will include it in their development pipeline if its worthy.
I have not got any single issues yet. Works completely flawless. My followers & engagement rates are on the rise.
In April I had 341k Impressions, they grew to 522k Impressions in May. Thanks to Zlappo that I scheduled many tweets & made money too with some.
April 2020 Impressions
May 2020 Impressions
Impressions grew at 53% in 1 month & partly that was due to scheduled tweets that I was able to do via Zlappo.
I got tons of link clicks from Twitter ( more from scheduled tweets via Zlappo)
So, I would highly recommend to anyone who is serious about Growing on Twitter to subscribe to this tool. Because Zlappo will give you the foundation to Grow on Twitter.
Without the foundation, you won't be able to Grow on Twitter.
Start your 14-Day Free Trial Here by Clicking on the Banner Below ( No Credit Card Required)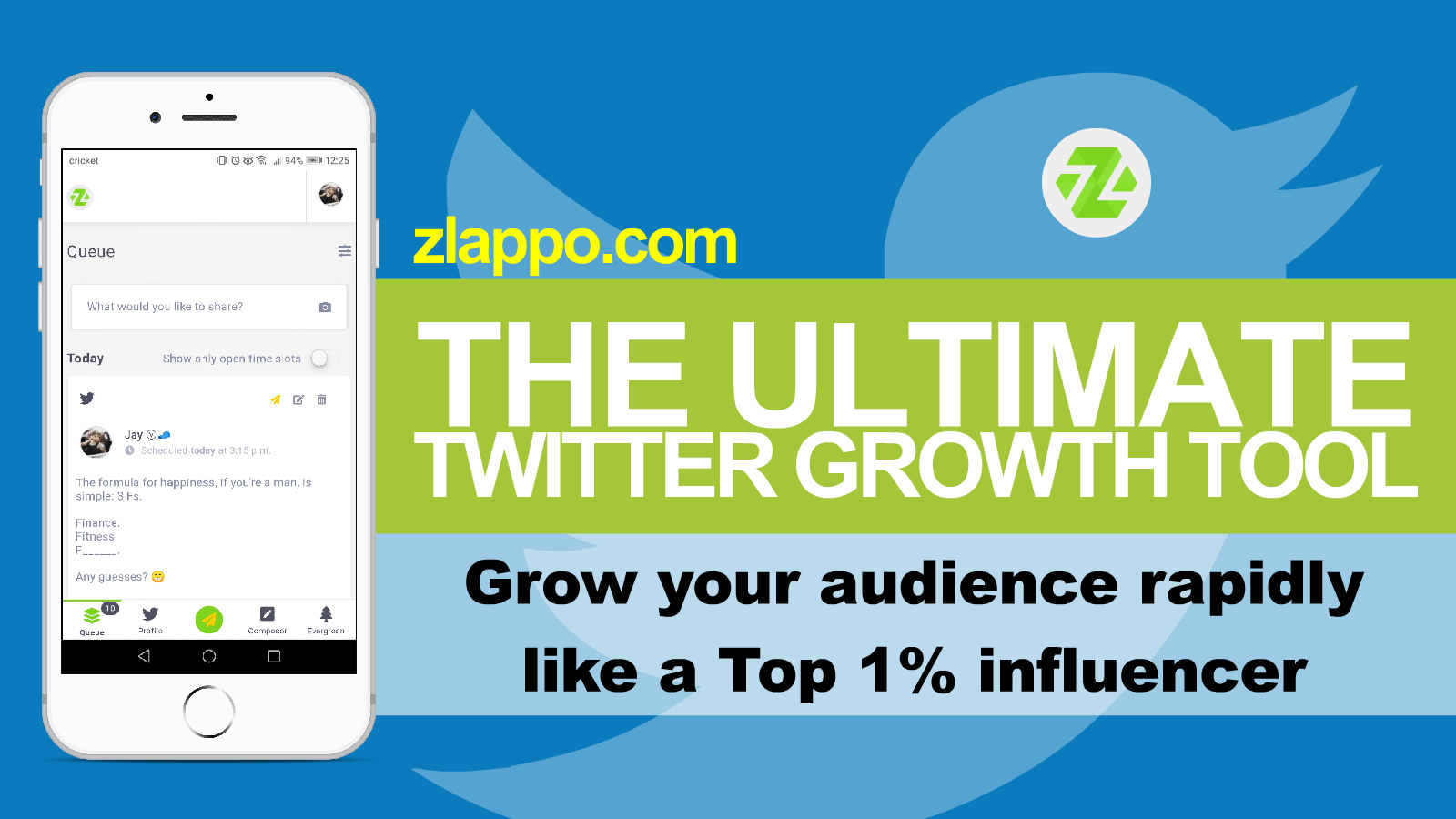 Zlappo Review: Final Thoughts
If you are serious about Growing on Twitter, then Zlappo is a must tool to have in your kitty. Twitter is one of the best social platforms to grow your brand or for that matter to make money.
I have been on Twitter for quite a while now & I already know that I am in here for the long term. Twitter is where the money lies.
I am getting 1000s of visitors via Twitter because I took Twitter seriously than ever. And guess what?
Visitors are from around the world & majorly from the 1st World Countries. A major factor.
Part of this success goes to Zlappo without which it could have been more difficult.
Start Today with Zlappo & I bet you would not be disappointed.
Frequently Asked Questions
Is Zlappo Easy to Use?
Yes, Zlappo is quite easy to use. You can easily check their GIFs on the Home page to understand better. If you have any difficulty, you can contact their support team & they will help you.
How Many Tweets Can I Schedule in a Month?
You can schedule 1000/Tweets a Month on Real G Plan
Is there any Free Trial?
Yes, There is a 14-Day Free Trial with No Credit Card Required.
How Many Twitter Accounts can I connect?
You can connect 1 Twitter Account on the Real G Plan But 10 Twitter Accounts on the Hustler Plan
What is the monthly pricing?
It is just $9.99/month on the Real G Plan.